"The Best Pass Defense Is A Pass Rush"
September 7th, 2022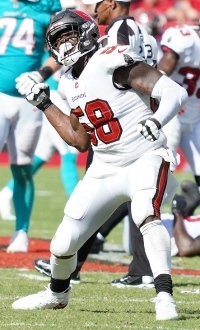 Father Dungy seemed to uncover the method to Todd Bowles' madness during their NBCSports.com sitdown.
Bowles tried to sell Dungy that he is more about coverage than blitzing. Dungy countered, "I don't believe that."
Astute Bucs fans know Bowles may run the most blitz-heavy scheme in the National Football League. Dungy pushed Bowles, a former safety, and said it feels like he's just and old defensive backing channeling his playing days You know, DBs want a pass rush more than anything else.
Bowles laughed, "That's exactly right. The best pass defense is a pass rush."
It's no surprise to Joe that the Bucs' first picks in the last two NFL Drafts were pass rushers, and they went out and paid for an aggressive interior rusher in Akiem Hicks.
They may not be finished shopping.