Super Bowl Or Bust
September 4th, 2022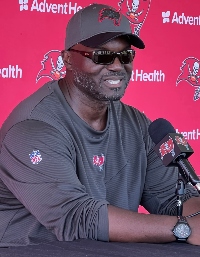 Man, talk about the highest standards.
Over at SI.com, Gary Gramling seems to think if the Bucs with Tom Brady don't make the Super Bowl, the season will be a waste.
Worst Case: Anything short of a Super Bowl victory is a disappointment for a Brady-led team, which is why a second straight divisional-round loss doesn't go over well. Brady's second free-agency tour (Miami? San Francisco?) unofficially starts in January.
This is why Joe is a little surprised the Bucs haven't picked up a seasoned backup on the offensive line. Perhaps that's coming in the next week?
Joe thinks a team all-in for this season wouldn't rely on banged up Nick Leverett as the go-to guy if there is another injury. And it is hard to imagine the Bucs playing 17 games without an injury to an offensive lineman.
(FYI, Gramling expects the Bucs to win 13 games.)