"I'm Expecting An All-Pro Season"
September 4th, 2022
BY IRA KAUFMAN
If good truly is the enemy of great, Devin White has quite a challenge on his hands.
White's a good linebacker, maybe even very good, but he's not great.
At least not yet. Still, he has the physical tools to be elite and if he reaches that goal, Tampa Bay's defense should be suffocating.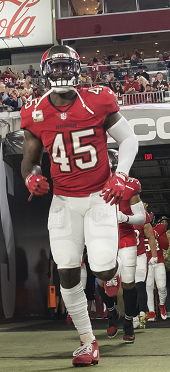 When the Bucs drafted White fifth overall in 2019, GM Jason Licht talked about White's rare speed.  He also dwelled on White's leadership skills and that's critical because when Lavonte David is no longer here, White will be the clear defensive ringleader.
He's already the tone-setter for Todd Bowles with his passion and energy.
White set an unrealistic standard for himself during the championship season when he registered nine sacks. That's virtually unheard of from an inside linebacker, so when White was credited with 3 ½ takedowns in 2021, it seemed like a letdown. His stops, even with an extra game, dropped from 140 to 128 and his tackles for loss plunged from 18 to 8.
That doesn't mean White had a poor season. Far from it, but he didn't take a step forward after a fantastic 2020 postseason that saw him pick off two passes and average 13 tackles.
His peers recently voted White No. 64 on the list of the NFL's Top 100 players, a testament to his skill set.
"Whether you're running away from him or throwing the ball down the field, he's a guy that is constantly around the ball," says Eagles All-Pro center Jason Kelce, who lost to the Bucs twice last season.
What White needs most is a way to combine his imposing physical prowess with the hallmark discipline of the greats in any sport. He needs to take better angles to the football and apply a better wrapup technique when he arrives.
"I'm expecting an All-Pro season from No. 45," David says of his extroverted partner. "I'm sure Devin's expecting the same thing out of me. We challenge each other. We've got the speed and we know how to control it — when to use it and when to not use it. How to play sideline-to-sideline, but also in the box."
No player in the league blitzed more often than White last season, with mixed results. While six teammates posted more sacks, only Shaq Barrett had more than White's 18 QB hits. He spent much of the offseason lamenting the triggermen that got away.
"He's probably the fastest linebacker in the game from Point A. to Point B.," says 49ers linebacker Fred Warner, just voted the 47th-best player in the NFL.
Derrick Brooks always keeps a keen eye on Buc linebackers and he has developed a strong relationship with White, who is savvy enough to soak up the knowledge imparted by one of the premier linebackers in NFL history. Brooks won't rest until White is a student of the game, a film freak who studies tendencies and keys until his eyes go blurry.
Until that point, White won't fulfill his potential.
Bowles already declares Dallas linebacker Micah Parsons "a game-wrecker," after just one season. At times, White looks a lot like Parsons. At other times, he looks a bit lost.
"Devin White makes so many plays, it's crazy," Cordarrelle Patterson says. He's right, of course. But there are more plays to be made — and White has the talent to make 'em. He also has the desire.
Devin White wants to be great. He wants to be the best linebacker in the league. Now, he has to put the work in to get there. Brooks did it — and he got there quickly.
This is Year 4 for Devin White. His time is now.