Rookie Talks Clueless Media And Fans
September 16th, 2022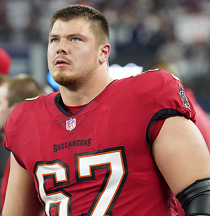 The cocky side of Bucs rookie guard Luke Goedeke has emerged again.
It came out on draft night when he talked about how he's a glass-eater ready to maul all comers. Then his swagger seemed to disappear as the challenge of August and a battle for a starting job set in.
Well, that swagger is back.
Goedeke sat down with the Salty Dogs podcast after Sunday's win and got back to talking about how he's "not a nice guy whatsoever" on the football field and how he's steaming with pride for how he and Robert Hainsey performed in their starting debuts.
The doubters are and were clueless, Goedeke said.
"People outside the building are going to have their thoughts and everything, but at the end of the day, they don't know two things that are going on in here," Goedeke said. "Obviously, [Hainsey and I] shut all those doubters out the way we performed on Sunday."
Goedeke also glowed about the unwavering trust shown in him at One Buc Palace.
Interestingly, Goedeke said his momentum is building. He called Wednesday's practice his best of the year.
Get'em, Luke!