Rave Review Of Luke Goedeke
September 14th, 2022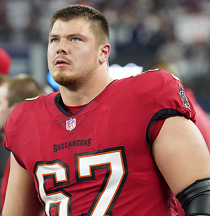 Joe was sitting on this Luke Goedeke assessment that was delivered before opening day. It was filed at JoeBucsFan.com world headquarters in the folder titled, "Let's see what happens in Dallas."
Head coach Todd Bowles visited SiriusXM NFL Radio to preview the Bucs-Dallas game and was asked about how his rookie left guard progressed and won the starting job.
Bowles spoke with exceptional confidence and sort of said Goedeke picked up steam and was not going to be denied.
"He did great. He's a very tough competitor. And he loves ball. It's hard to get guys that love football these days," Bowles began. "He simply loves to play the game, especially loves playing offensive line. He's a great guy in the run game. He's gotten better in the pass game because he's picking up twists and stunts now.

"We expect him to have one or two blips here or there, but overall it was hard to stop him and keep him back. Like, we don't have a problem playing young players here. [Antoine] Winfield with us when we won the Super Bowl. We'll put rookies in to play if they're ready to play, and we'll make sure they're doing the things they can do while they learn the things that they can't."
For now, this story has a happy ending. Goedeke proved himself as a leader in the Bucs' punishing rushing attack and his pass blocking was acceptable.
Man, Joe still can't believe the night general manager Jason Licht had on Sunday, seven rookies contributed and his hand-crafted defense locked down Dallas on the road.
---
Ira Kaufman Talks All Things Week 1 Dominance, Robert Hainsey Revelations, A Peek At The Saints, And More