Points First, Payback Later
September 14th, 2022
BY IRA KAUFMAN
By now, every Buc fan is painfully aware the Saints have Tampa Bay's number.
What you didn't know is that the number is 16.6. That's the meager average point total for Tom Brady's club in the past five meetings — four of which have been won by the Saints.
The Bucs average more than 30 points against the rest of their schedule, but the offense often turns sloppy and punchless against the primary division rival.
Although New Orleans has won the past seven regular-season meetings, three came prior to Brady's arrival in 2020. Let's focus on the past five matchups, which includes Tampa Bay's 30-20 playoff triumph en route to the Vince Lombardi Trophy.
What gives in this one-sided rivalry?
It's not like Alvin Kamara and Michael Thomas have led the way since Brady became a Buc. In those five games, Kamara is averaging 44 rushing yards and 3.2 yards per carry. Thomas, who has often thrived against the Bucs, missed both matchups in 2021. In three games against Tampa Bay in 2020, Thomas caught 8 passes for 68 yards and zero touchdowns.
Instead, the Bucs have been their own worst enemy with 11 turnovers and 35 penalties.
The primary culprits? Focus on Tampa Bay's two key offensive weapons.
Let's start with Mike Evans, who has been taken out of recent games against the Saints to the point he appears disinterested. If No. 13 is getting open, Brady hasn't noticed because Evans has been targeted only 18 times in those five meetings. He has nine catches for 131 yards — numbers more common for a rookie free agent just trying to avoid the practice squad.
But wait, Evans languishes in distinguished company.
As a Buccaneer, Brady simply has not played well against New Orleans. He's been battered and bruised … and that's not just his ego. The Saints have sacked him 14 times and picked him off on eight occasions. In the five matchups, Brady threw as many interceptions as TD passes, a far cry from his career ratio of three TD throws for each pick.
And Brady's completion rate against New Orleans is a mere 60 percent.
The bottom fell out last December, when the Bucs had an opportunity to clinch the NFC South. Instead, they were blanked 9-0 at home by New Orleans … one of the most disheartening losses in franchise history.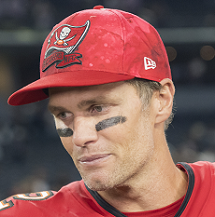 "Just a tough night," Brady said after he was sacked four times. "Didn't do much of anything right."
Despite recent domination by the Saints, the Bucs are favored by 2 ½ points at the Superdome on Sunday afternoon. New Orleans looked drab against Atlanta in Week 1 before Jameis Winston led a furious fourth-quarter comeback.
"That team knows that it can beat Tampa Bay," says former Saints head coach Sean Payton, who is picking New Orleans to beat out the Bucs as division champs.
Brady wasn't happy with the passing game against Dallas Sunday night. There were problems on third down and in the red zone, but the Bucs rode a sensational defensive effort to victory.
What better way to emerge from an offensive funk than to shred an annual nemesis and stand alone atop the NFC South after two weeks?
Brady and Evans are looking for some payback. Buc fans are looking for some points. Sunday can't come soon enough.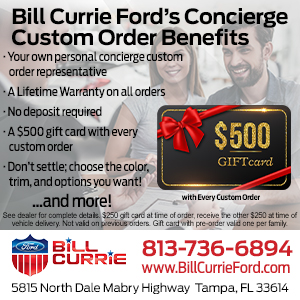 Watch Sunday's Bucs-Saints game w/ @IKaufman76 and Bucs fans at Big Storm Brewery
— 49th St. in Clearwater.
Massive covered patio, plus indoors. Great TVs & audio and Florida's best craft beer and a killer menu. pic.twitter.com/uTcCkIBYjc

— JoeBucsFan (@JoeBucsFan) September 13, 2022