Lavonte David Says He Wants A Payday For 2023
September 16th, 2022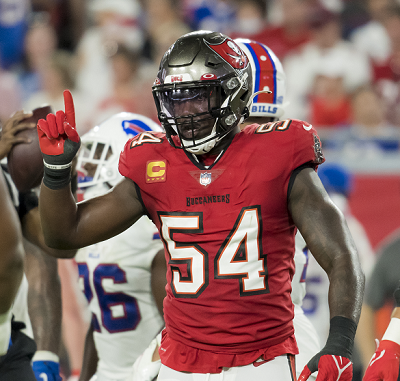 When the many Buccaneers playing in a contract year are discussed, Lavonte David's name rarely comes up.
The focus is usually more on Jamel Dean, Sean Murphy-Bunting and Tom Brady. But David, the legendary Bucs linebacker, is playing for a contract, too.
He wants to score another fat bag after he turns 33 years old in January.
"I'm trying to get another one. I feel good. I feel like I can still play at a high level. Keep it comin'. Keep it comin'," David told the Truss Levelz podcast for an episode that published this week.
It's just about unheard of to pay massive money for two inside linebackers, and the Bucs are in line to pay Devin White big money next season. But it sure would be hard to let David walk if he's stays healthy. Not only does he probably make White a better player, he's damn good.
Joe suspects David won't take a big hometown discount to stay in Tampa, though he was adamant on the podcast how much he prefers playing on grass.
Regardless, Joe just hopes David commands big money next season. That would mean he had a fantastic 2022.