Is It Fair To Blame Lost Practice Time?
September 25th, 2022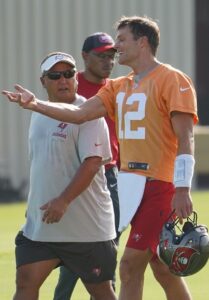 So the Bucs offense through three games is struggling in areas requiring precision that comes with repetition: botched snap in New Orleans, miscommunication on a 2-point conversion, and red zone play overall.
Is it fair to say Tom Brady's lost practice time in training camp (and a little time off during the regular season) is to blame?
Joe doesn't have an answer. But it sure feels like a fair question.
Brady himself for years has celebrated his love of practice and the need to maximize every minute of practice. It's a big reason why so many teammates love him and fans appreciate him. But this year he's been practicing less by choice, despite having a several new offensive teammates.
This isn't an entire Super Bowl offense returning. Brady opened the season with multiple new targets and blockers.
Of course, Tom Brady not practicing in mid-August because he's on the beach has nothing to do with Russell Gage and Breshad Perriman fumbling today, or the Bucs' struggles in the running game. But maybe, just maybe, it's impact is being felt.
Joe sort of hopes some of the offense's woes are tied to Brady needing more time on the field to get the offense humming. That would be an easy fix as the season marches on.