"I Got To Rest And Heal All The Way Up"
September 29th, 2022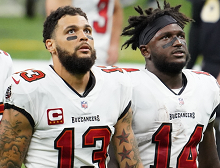 A little silver lining was revealed this morning.
The greatest receiver in Bucs history, Mike Evans, was suspended for last Sunday's game. It probably cost the Bucs a win.
But on the upside, Evans shared from the Bucs' current training compound in Miami, that the unplanned week off revitalized his body.
"I got to rest and heal all the way up," Evans said, adding that it's a positive and he's raring to go.
Joe thinks it's a huge positive. A body reset for a guy like Evans, who always will play banged up, should help him for the long term. It'll also be a nice asterisk when Evans breaks 1,000 yards again this season and won't have to say he needed a 17th game.
Evans addressed his suspension, saying that it's on him and he has to find a way to control himself so it doesn't happen again.