Gametime Decision For Chris Godwin
September 8th, 2022
Chris Godwin didn't practice today. This sent shivers up the spines of those wondering if he nicked up his rehabbing knee.
That's not the case and playing Sunday night at Dallas is not off the table.
Yes, Godwin could play, documents Scott Smith of Buccaneers.com.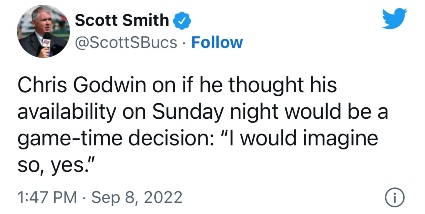 Joe has to admit this could be a form of gamesmanship. Keep the Cowboys thinking Godwin could play. Joe has heard enough from Godwin and Bucs coach Todd Bowles saying Godwin won't play until he's perfectly ready. Just based on that, Joe would be surprised if Godwin plays Sunday.
As for why Godwin didn't practice today, he said he fully practiced yesterday (for the first time since his knee injury).