Far More Advanced Than Defensive Coordinators
September 7th, 2022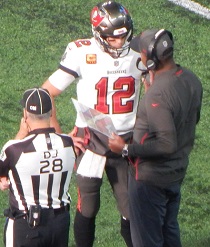 The guy who seemingly invented retirement angst at the quarterback position was talking about the travails of the latest QB in that wobbly boat.
Joe's referring to Brett Favre and his views of Tom Brady, as shared yesterday on SiriusXM NFL Radio. Interesting stuff listening to Favre talking about the behind-the-scenes of his often annual dance with retirement.
But more interesting to Joe was hearing Favre talk about Brady having one of football's great minds. "Mentally, he's far more advanced than not only defenses but defensive coordinators," Favre said.
Joe agrees with Favre (and no, Joe's not addressing the Dennis Allen elephant today). Brady gets smarter and smarter and appears ahead of D-coordinators around the league.
Did those coaches seem to catch up to Brady in the Tampa Bay offense after seeing a year's worth of 2020 film on him? Nope. Brady led the league in passing and touchdowns last season as the Bucs marched to a 13-4 record.
This is why Joe pities those wagering on the Cowboys to win on Sunday. Brady has proven capable of outsmarting Cowboys defensive coordinator Dan Quinn, and Brady is 15-4 through his career in his team's first game of the season — after all those months to outthink a premier opponent.
As Joe wrote yesterday, Cowboys QB Dak Prescott is 2-4 in opening-day games.