Ed Reed Says Leonard Fournette's Block On Micah Parsons Was A "Cheap Shot;" A.Q. Shipley Fed Up With The Whining
September 16th, 2022
Man, now a Hall of Famer is coming after Playoff Lenny.
Playoff Lenny got all sorts of defenders triggered when his chip block on Cowboys star pass rusher Micah Parsons helped Tom Brady buy time to complete a 48-yard bomb to Julio Jones Sunday in Dallas.
It enraged Bills star pass rusher Von Miller, who took his outrage on a Twitter campaign — and to NFL Network and Bleacher Report — demanding NFL warden Roger Goodell ban the chip block. Joe has already spelled out how Miller's demand is a trojan horse.
Parsons himself went on Twitter and called Playoff Lenny a (female kitten) for not first allowing Parsons to square up on Playoff Lenny before Playoff Lenny teed up Parsons.
Now add Hall of Fame safety Ed Reed to the mix.
Reed, speaking in a video on The33rdTeam.com, spelled out how this was an example of offensive players getting away with murder while defensive players are slowly stripped of the ability to play football.
Reed is right about how defensive players can no longer play the good, hard-hitting football right-thinking thinking Americans crave. But Reed is wrong about Playoff Lenny.
Reed thought Playoff Lenny's block was a cheap shot but let Joe be perfectly clear: Ed Reed did not call Playoff Lenny a dirty player and in fact, Reed made it clear he doesn't believe Playoff Lenny is a dirty player.
"It was definitely a cheap shot," Reed said of Playoff Lenny's block. "I don't think Leonard Fournette is a cheap shot guy. I don't think he is that kind of player. But he definitely — I think that was a cheap shot."
Well, a guy who blocked for Playoff Lenny during the Bucs' 2020 Super Bowl run and also was a Bucs assistant offensive line coach last season, is sick and tired of defensive players' whining. A.Q. Shipley, who is also Bucs center Robert Hainsey's personal coach, unloaded on what he sees as hypocrisy.
Shipley took to Twitter and threatened to expose many by showing video of defensive linemen doing to left guards coming off stunts exactly the same technique Playoff Lenny rang up Parsons.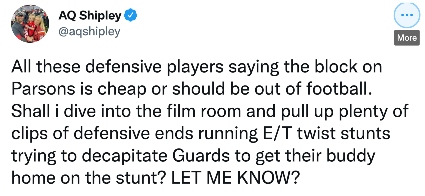 Joe cannot believe the hornet's next Playoff Lenny has kicked up. It's like offensive dudes aren't allowed to blast defenders.
Maybe defenders ought to be aware of their surroundings and keep their heads on a swivel?