Devin White Wins NFC Defensive Player Of The Month
September 29th, 2022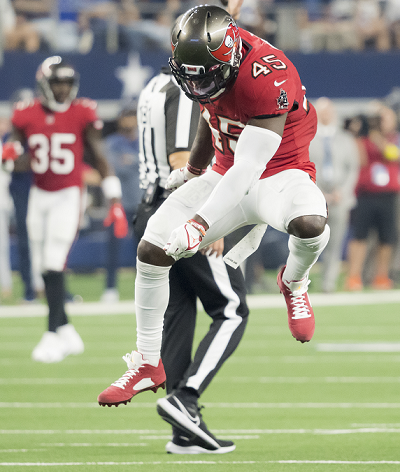 Joe asked Devin White just one question yesterday on a conference call.
Where are you with your game after three weeks? 
"I'm in a good space with my game within three games," White began. "Obviously, I always feel like I can do way, way much more – you know, but man, my coach gives me a challenge each week and every week it will be different.

"You know, [Sunday] it was making sure [Aaron Jones] don't get going and I think I did a great job of that, besides one time I kind of let him slip through, got a little greedy. But obviously, he only had 11 receiving yards and he probably been having way more than that before he played us. In the run game, make sure he don't get no tosses going. And I think we did a great job at that. So I'm fairly good [with my play]. Obviously, I want to keep sharpening tools and, you know, get my hands on a couple of picks – I think that would kind of keep me trending in the right direction. But so far, I'm thankful for what I've been able to display on the field."
Today, White was named NFC Defensive Player Of The Month for September.
On the stat sheet, White has 24 total tackles, 3 sacks, 3 tackles for loss, 2 passes defensed, and a forced fumble in three games. And of course, White is the in the center of the NFL's best defense.
Well deserved, Mr. White. And Joe loves how you still have room to improve.
UPDATE: We will be reopening our taprooms today in Clearwater and Pasco! More info to come about efforts to help affected communities to the south.

— Big Storm Brewing Co (@BigStormBrewing) September 29, 2022