Calm Down About Tom Brady!
September 26th, 2022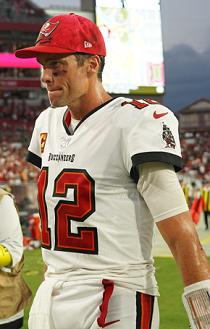 You've heard it; Joe has heard it. Hell, you may know someone who is part of it.
The Bucs cannot convert third downs. They can't score touchdowns. They huff and they puff and they can't blow a defense's door down like in recent years.
So Bucs quarterback Tom Brady is shot, right?
Wrong.
In short, Jeff Kerr of CBS Sports types that it is way over the top to suggest Brady is physically done and yesterday demonstrated he's not shot.
Tom Brady is starting to look like an aging quarterback
Overreaction or reality: Overreaction

Not ready to go down this rabbit hole yet, even if Brady has just three touchdown passes through three weeks and the Buccaneers have yet to score over 20 points in any of their three games played.

Brady was 31 of 42 for 271 yards with a touchdown and no interceptions … throwing to the likes of Russell Gage, Breshad Perriman, Jaelon Darden, and Cole Beasley — not exactly the receiving group he came out of retirement for.

Evans, Godwin and Jones have played 13 snaps together this season which is why Brady has his fewest pass touchdowns through three games and his lowest passer rating (89.2) since 2014. Let's wait until Brady's top playmakers return before we jump to the conclusion that the 45-year-old is finally showing his age.
Joe thinks Kerr is right. Throwing for 31-of-42 for 271 yards is not exactly Mike Glennon-like. If you didn't know the guy's name is "Brady," you wouldn't consider the Bucs quarterback had a bad day yesterday.
Yeah, let's see what happens when he gets back his receivers. You know, Mike Evans, Chris Godwin, Julio Jones… and Gronk? Donovan Smith should help, too.