Byron Leftwich And Todd Bowles Grade Leonard Fournette
September 21st, 2022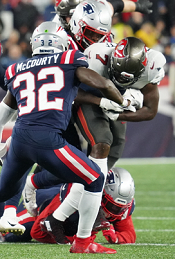 Joe can't recall receiving a report card quite like this.
Every player is graded internally after each game. Coaches dissect the film and nobody's graded on a curve.
Offensive coordinator Byron Leftwich shared the report card on Leonard Fournette during the playcaller's visit to the Buccaneers Radio Network yesterday.
"Lenny has had A+, he's been grading out at A+ level the first two ball games," Leftwich said.

"What he brought to us [in New Orleans], it won't show on the stat sheet. But all the little plays, all the things that we talk about, all the coaching points, he was dead-on on it. And he helped us so much where nobody would see. He helped us in the passing game. He made sometimes where we should have lost two [yards] he got us back to the line of scrimmage. He gave us good, tough hard runs, where he's gaining five or six yards where most people won't gain five or six yards there."

"The beginning of Lenny's year has been excellent, really. The effort that he's putting in, the preparation that he's putting in. I kind of said it at the end of last year; I think we kind of watched Lenny grow right in front of our eyes into a professional running back."
Joe is fired up to hear that, but it also makes Joe wonder how bad it would have looked against the Saints if Fournette got, say, an A- grade or a B+.
Todd Bowles echoed Leftwich on the same broadcast.
"We thought he had a better week this week than he had last week [against Dallas] because of his blocking and keeping the guys off Tom," Bowles said of Leftwich. "You know, he was clean in blocking, chipping helping the offensive line out. He was makin' hard, necessary yards, whether it was one or two yards, he kept the ball moving and kept it churning. And he was out there fighting and we thought it was one of his best all-round games."
Joe just hopes the Bucs find a complement for Fournette, because he can't keep up this 1980's-style workload.