Bucs Fans Are Steaming With Confidence
September 18th, 2022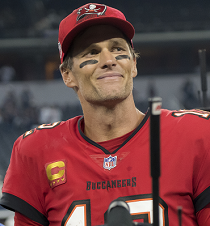 Joe was a little surprised to see Joe's flash poll last night revealed 73.4 percent of Bucs fans think Tampa Bay will beat the Saints this afternoon in New Orleans.
Joe gets the confidence, but why so strong? Joe and Ira Kaufman picked our beloved Buccaneers to lose.
Tampa Bay has dropped seven of its last eight games to the Saints, with the one win a comeback "W" in the playoffs two seasons ago.
Joe is fired up by the collective confidence of fans. Perhaps Joe is being to analytical? The Bucs, after all, are on a 23-5 run and have the greatest quarterback known to mankind facing a quarterback who hasn't won anything, and the Saints have their share of injuries, too.
New Orleans is down a left tackle (the Bucs may be, too) and all-world running back Alvin Kamara (rib injury) is highly unlikely to play (though that news didn't really come out until after the poll finished).
Most likely, Joe is discounting the retirement of Saints head coach Sean Payton. In fact, that didn't come up at all in Joe and Ira's chatter about the matchup.
The reality is that Dennis Allen, in his Saints head coaching debut last week, saw his team come out against a bad Atlanta team and get pushed around all over the field. The Saints came out flat and weak, and they were a Marcus Mariota fumble at the 3 yard line away from losing that game.
Like Allen, Todd Bowles took over for a legendary coach, but he had his team ready to play in a game against Dallas that wasn't close.
Hopefully, Bucs fans are collectively smarter than Joe when it comes to this game. It wouldn't be the first time.
Buccaneers legend Derrick Brooks picked the Bucs to win, but he also picked them to lose in Dallas. And this is a guy with his pulse on the team as he regularly mentors Buccaneers savior linebacker Devin White. Man, it's so darn hard to pick games. You can watch Brooks' breakdown here on TAMPA TWO.
---
Ira Kaufman Talks Injury Report Gamesmanship, Bucs Bullying, A Fresh Look At Jameis History, Tough Saints Game Calls & Predictions, And More