"Absolutely Tom Brady Gets A Pass"
September 26th, 2022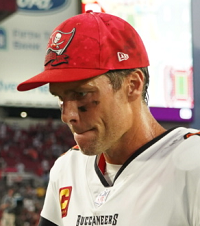 A Hall of Fame receiver made a loud point today and one that will keep Joe awake again tonight — two sleepless nights in a row.
Michael Irvin was ranting on ESPN TV today about how "absolutely Tom Brady gets a pass" for the Bucs offense's struggles in their home opener.
Irvin bellowed that Brady "lifted up" Russell Gage with 13 targets, tying his career high while doing the best he could with true backup receivers.
"Give Brady any one of those guys," Irvin said referring to Julio Jones, Mike Evans or Chris Godwin, "and he wins this football game."
Joe agrees with Irvin but what will keep Joe up is that last sentence. Todd Bowles himself said Julio was ready to play but the Bucs opted to rest him for the long haul as his knee further heals. Joe gets a big-picture approach, but dammit, owning the tiebreaker on the Packers is big-picture-worthy, too. Wouldn't it have made just a little more sense to go all-in with Julio yesterday and sit him against the Chiefs, a non-conference opponent?
Oh, well. Monday morning quarterbacking is alive and well.
Retired QB Dan Orlovsky was alongside Irvin barking about how the Brady-Bucs offense is in trouble and not since 2003 has a Brady team gone three consecutive games with 20 points or less. He also noted the Bucs' 36 drives and just 3 touchdowns this season.
Joe will be concerned if the Bucs' struggles continue when Donovan Smith and Evans return to the lineup. For now, Joe is rolling with Irvin.
---
Ira Kaufman Fires Away On The Bucs-Packers Game!