A More Physical Team?
September 12th, 2022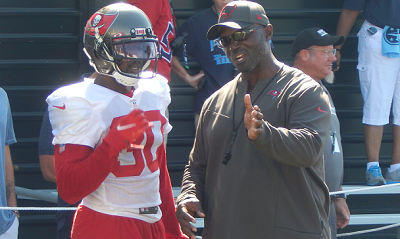 Joe was highly intrigued hearing Father Dungy talk last week on NBCSports.com about his sitdown with Todd Bowles and how one of his takeaways was the Bucs would be more physical this season.
Joe didn't write about it but it stayed on Joe's mind. What was Dungy trying to say? It wasn't like the Bucs were a bunch of softies under Bucco Bruce Arians. Just look at how beastly the offensive line was in 2021, and the Bucs played with a lot of fire in the defensive trenches last season.
Regardless, Joe had to assume Bowles told Dungy that he thought physicality was lacking, so Joe was focused on that last night against Dallas.
And look what happened.
Tampa Bay humiliated the Cowboys in their own crib with physical pass defense on all levels of the defense, and the offensive line bullied its way to a huge night rushing the ball, 31 carries for 153 yards by guys not named Brady.
The Bucs won the wars in the trenches and just about everywhere else. Dak Prescott was knocked out of the game. Hell, even the coverage teams looked more physical than usual.
Joe sure hopes Bowles is on to something. And if he has found a way to get the Bucs more physical consistently, combined with all their raw talent, Joe can't imagine the Bucs losing many regular season games.