Turncoat Tommy
August 2nd, 2022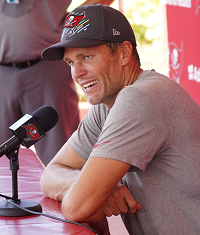 So it's official, the NFL has put in writing that Tom Brady's agent was talking to the Dolphins midway through last season about Brady becoming a Dolphins owner, executive and/or quarterback.
Joe's going to take a day to be pissed off at the greatest QB in Tampa Bay history for his role in official tampering that drew a very harsh punishment for Miami.
Brady is all about the team, Brady insiders say, but that behavior was not a move that was all about the team while the Bucs were trying to win back-to-back Super Bowls.
It's not cool at all that Brady was involved, and it could have been a distraction for him during last season. And he and his agent ran a huge risk of the shady behavior leaking during last season, which surely would have been a colossal mess.
Joe will be over this in a couple of days, but for now Brady is Turncoat Tommy. Joe sincerely hopes Brady's teammates will forgive him, along with the Bucs' front office.
Surely they will, but Joe suspects at least a few will be sour about it tonight.