Tristan Wirfs: Happy To Pass On Preseason Games
August 6th, 2022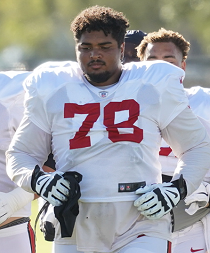 Our beloved Bucs are just seven nights from taking the field again before a nearly sold out crowd at The Licht House.
Todd Bowles already announced Tom Brady won't play in the Bucs' lone home preseason game, along with many other starters. They'll get their work against the Dolphins in controlled scrimmages on Wednesday and Thursday.
It's a departure from last season, when Brady played a series against the Bengals in the preseason opener and promptly was sacked courtesy of Tristan Wirfs (video below).
It happens, but it doesn't happen in scrimmages when no QB hitting is allowed, so maybe that's why Brady won't play.
Joe asked Tristan Wirfs if, as an accomplished veteran now, he'd embrace skipping preseason games. Wirfs said bring on the bench seat cushion!
"Yeah, I wouldn't mind not playing in them. It's a long regular season," Wirfs said, noting the Bucs won the Super Bowl without preseason games and that 20-game season was a long grind.
"Last year we got our work against [in scrimmages], you know, earlier in the week and then some other guys played in the game and get their reps," Wirfs added, saying it doesn't matter to him if he plays in August or not.
Joe will note that for years the Rams haven't played starters in preseason and it's worked out well for them.
On the flipside, Ravens head coach John Harbaugh goes all out in preseason and is riding an NFL record 20-game preseason winning streak, one that's won Joe a few bucks on the gambling circuit. Of course, Harbaugh is a borderline Hall of Fame coach who surely will pass Father Dungy and Marv Levy on the all-time wins list this season.
Joe is all for the bubble wrap approach when it comes to preseason, but Joe also is fine with players who feel they need half a game to get their bodies and minds right for Week 1.
"I just know we got to get back to work." A HUGE debut & a sack of Tom Brady won't stop @joseph_ossai from the goal. 😤@Geico | #RuleTheJungle pic.twitter.com/986E6cCJMC

— Cincinnati Bengals (@Bengals) August 15, 2021