Tom Brady Skips Practice
August 5th, 2022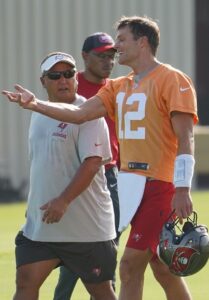 Odd development at One Buc Palace this morning.
Tom Brady got the day off Wednesday, his birthday. Typically, when he gets a veteran day off, Brady is on the practice field with his teammates. But Brady was not seen and didn't meet with NBC Sports insider Peter King, who was at the One Buc Palace for his annual sitdown with team power hitters.
Then yesterday, the Bucs had their scheduled day off after practicing Monday through Wednesday. And today Brady is absent again, with the team getting the word out that it's an excused absence because of a personal matter.
Joe has no clue what's happening and, yes, Brady is human and may have a pressing personal matter that's bigger than football.
For example, his parents are well into their senior citizen years and perhaps there's a health concern Brady is dealing with there. Or maybe Rita Moreno and Lily Tomlin were threw Brady a brunch?
Regardless, Brady being disconnected from training camp practice for consecutive days is noteworthy.
Joe is hoping Brady doesn't have COVID. And no, Joe isn't worried that the Dolphins-Brady tampering scandal left him ashamed, dejected and home under the covers.