Tom Brady Says He's "Heartbroken" About Ryan Jensen
August 1st, 2022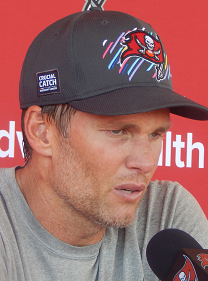 Tom Brady wasn't in the best mood today when talking to media for the first time at Buccaneers training camp.
Perhaps it was the interceptions he's thrown the past two practices. Or maybe it was the outrageous swelter.
Joe hopes it's not Brady believing losing Pro Bowl center is a crushing blow. For those holding out hope that Jensen might make a comeback from his blown knee this season — the Bucs haven't provided details on the injury — Brady threw ice cold water on that.
"Obviously, everybody's heartbroken with what happened to Ryan," Brady lamented.
As for Jensen's replacement, Brady spoke as if second-year man Robert Hainsey is the next-man up.
Brady praised Hainsey's hard work last year multiple times (Joe will share great insight on that tomorrow), but said it's all about what Hainsey can show now.
"He really gained the trust of a lot of people, and he's got to go earn it, like all of us," Brady said.