Richard Sherman Talks Top-9 Cornerbacks And Doesn't Mention Carlton Davis
August 4th, 2022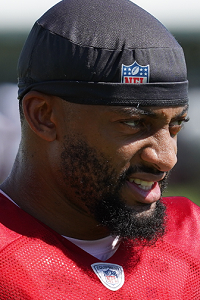 Lots of Bucs fans like to talk about Carlton Davis being a Top-10 NFL cornerback.
It's a fun debate. And there's even a lot of disagreement at JoeBucsFan.com world headquarters on the subject.
Former Bucs cornerback Richard Sherman, the renowned Pro Bowler who doubled as an assistant coach with the Bucs last season because he was often injured, was talking top current cornerbacks on a recent edition of the All Things Covered podcast.
Sherman was point blank asked to name the beasts of the 2022 cornerbacks crop leading the game into the next generation.
Davis was not mentioned by Sherman. Below is in which Sherman spit out cornerback names:
Jalen Ramsey, Marshon Lattimore, Stephon Gilmore, Darius Slay, Xavien Howard, J.C. Jackson, A.J. Terrell, Tre'Davious and Jaire Alexander* (*Alexander was mentioned by a podcast co-host but Sherman didn't voice an objection.)
Perhaps the name that hurts there most is A.J. Terrell, the young Falcons. Like Davis, he's the only cornerback on that list to have no Pro Bowl on his resume. Terrell was a first-round pick in 2020; Davis was a second-rounder in 2018.
Davis is the 11th-highest paid cornerback in the NFL, and the Joe typing here would say that's about right on the money as it relates to his value.
Now 25 years old and healthy, this feels like a great year for Davis to take a small step forward and join the elites of the game.