"I Always Said That Tommy Brady Was Never Going To Be Humpty Dumpty"
August 4th, 2022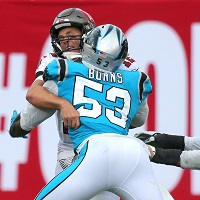 What's the over/under on how many more days Bucs center Robert Hainsey will get to prove he can pass block for Tom Brady and replace injured Ryan Jensen?
A dozen?
Charlie Weis is Brady's good friend and former Patriots playcaller. He's even coming to visit Brady this week at One Buc Palace, so he told his SiriusXM NFL Radio audience this week.
Weis also was on the air telling Bucs fans to prepare themselves for the plug to get pulled suddenly on Hainsey. He didn't say it would happen, just that the decision would be swift and could be soon.
"Don't be shocked if, you know, all of a sudden you get one of those veteran center free agents come popping in for a workout," Weis said. "You'd always like to be able to use the guys in your own program that know what they're doing, that have been around, that know the terminology … but if you don't think that you can hold the fort with the guys you have, then you go on the street and go get one."
What Weis said my seem obvious, but it's key to realize that he's talking about "holding the fort" for 20 games, not just for a while.
The Bucs simply cannot and will not play games at center. They may hope it's Hainsey, but at the end of the day, they'll sign the best available center. And it's clear that money will be no hurdle in 2022.
Brady won't play games either. Weis says Brady will not gamble his health and risk the great falls that could accompany a newbie center struggling in August.
"I always said that Tommy Brady was never going to be Humpty Dumpty. He wasn't going to sit on the wall and risk falling over and be on the decline," Weis said, noting Brady is the top of his game.
Co-host Solomon Wilcots, the former NFL defensive back, countered Weis by saying of the Bucs adding a new center now," What's coming in the door is rarely better than what walked out."