"No One-Day Wonders"
August 2nd, 2022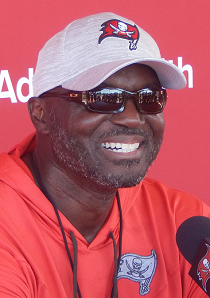 Joe loved a few one-liners from Todd Bowles today because they are important for fans through all of August.
It's easy to watch a couple of practices and remember guys making plays, having strong days and looking sharp. Throw in a dual-sack preseason game in there, too. But what's far more important to coaches is consistency and progression.
Six days into training camp, the media and fans at training camp "standouts." Joe's not so egomaniacal to think a great day matters much, and nobody outside the team has film to dissect.
Joe will say that Bowles seems much more about production in preseason games when it comes to guys fighting for jobs. Perhaps that's the former player in him?
Bowles made it clear that a couple of good practices don't impress him much. "No one-day wonders," he said.
Talking about his cornerbacks needing to stop dropping football this season, versus all the ones they dropped in 2021, Bowles said he's not a guy who's going to be wowed in August.
"You can practice it all you want but you got to catch it in the games," Bowles said.
Joe is very curious to see how Bowles handles the preseason.