More Than 600 Unsold Seats For Bucs' Home Opener
August 27th, 2022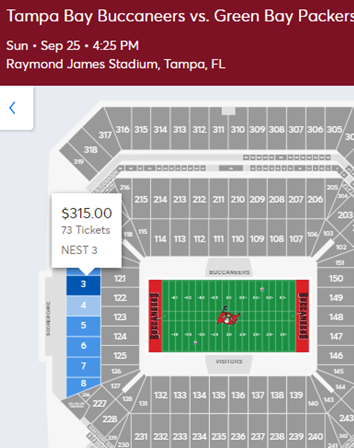 First, the good news.
As of late this morning, the Bucs have 600-plus unsold tickets for their home opener against Green Bay available on Ticketmaster in the new section behind the south end zone.
That area was added this season — hopefully so Team Glazer can afford more outdoor training camp seating next season, you know, so they can open a practice to the general public.
The bad news is that one ticket in this area of The Licht House (see above) costs more than $350 with taxes and fees.
That's a lot of glorious Big Storm beer and Hooters wings.
Still, for those who cannot afford season tickets, a window is now open to buy a single-game ticket. The Bucs have decided that the seam seats are worth less than $200 for future games that appear less exciting, such has against Carolina on New Year's Day.
Have fun shopping!
And mark it down, you can watch the Bucs-Saints road game on Sunday, Sept. 18 at 1 p.m. with Sage Ira Kaufman and great Bucs fans at the Big Storm Brewery taproom, 12707 49th Street in Clearwater. It's a great time indoors or on the covered patio. And you can have a hell of a feast with Florida's best craft beer for less than it costs to park at a Bucs game.