Mike Evans No. 53 In NFL Network Top-100, Drops For Second Consecutive Year
August 15th, 2022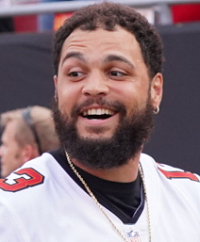 Those NFL players are tough voters.
In 2020, Mike Evans was ranked No. 30 in the NFL Network top-100 feature born from an annual players-only vote to determine the list. Last year, Evans fell to No. 48. In 2022, per last night's reveal, Evans checks in at No. 53.
Evans also was No. 53 for the 2019 season, following up being omitted from the list entirely in 2018 after ranking as high as No. 29 overall in 2017.
Nearly every Bucs fan knows Evans owns the NFL record for most consecutive seasons of 1,000 or more yards receiving to start a career. He's got eight and counting.
Joe, however, is more focused now on the all-time record for overall consecutive seasons of 1,000-plus yards. That's held by Hall of Fame receiver Jerry Rice at 11 straight years. En route to catching Rice, this year Evans can tie another Hall of Famer, Tim Brown, who had nine consecutive years of 1,000 or more yards (1993-2001).
Joe believes Evans is a top-5 NFL receiver no matter what argument tries to dispute that.
You can watch the Evans segment naming him on the 2022 NFL Network Top-100 right here.