Leadership Test For Todd Bowles
August 11th, 2022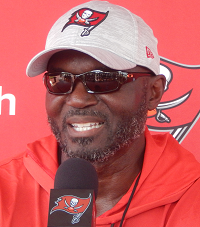 The Tom Brady extended absence is one heck of an early test for head coach Todd Bowles.
Not only is Brady the team's larger-than-life spiritual leader, he's a tempo-setter and a guy who raises the games of others.
Can Bowles get the most out of the team with Brady missing two weeks weeks in August? (Joe's including the three practices Brady already has missed.)
Will the players know and understand why Brady is gone? Will they all believe whatever reason is offered?
Bowles' coaching staff also now loses Brady's real-time feedback, which they've come to rely upon and certainly trusted. Joe hopes Brady, wherever he's going, will be able to watch practice film and share feedback in a timely manner.
No matter how you spin it, Bowles has to ramp up communication with the offense and whatever steps he was taking to earn their trust and buy-in. He had talked about investing time to better know the players on that side of the ball.
Joe is not going over the top here. Brady isn't just another player, and he will not be attending practices during his hiatus. It's a huge void.
The goal is a Super Bowl, and a fast start likely will be critical to homefield advantage and a smoother start to winning the NFC south, two of the team's primary goals.