Jason Licht: A Working Vacation For Tom Brady
August 25th, 2022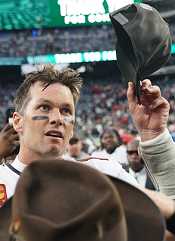 Yes, Tom Brady left the Bucs for 11 days and returned on Monday morning, but what was he doing when he was gone?
Only Brady has all the answers and he's not sharing yet. But general manager Jason Licht opened a window into Brady's movements during his vacation.
(Yes, it was a vacation. Stop barking at Joe for calling it that. When you leave work for a while and you're not sick and your family's not sick, then it's a vacation. What one does on his vacation is another discussion.)
Licht went there a bit during his appearance on The Dave Pasch Podcast this week.
"I know he was preparing in those 11 days, as well,"  Licht said of Brady. "So it's total trust with him. Obviously it's great to have him back in the building; the vibe picks up even more [after] he's gone. But the foundation that he's set already in the last two years that he's been with us, it carries over. That was one of the things that we talked about before we signed him in free agency in 2020, however long he plays — two, three, four [years] — his presence is going to be felt for a long time, just because of the standard that he sets."
Joe can only imagine how Brady was "preparing" during his time away. Joe suspects it mostly was focused on the Cowboys and Saints, the Bucs' Weeks 1 and 2 opponents, respectively.
However, obsessing over his interior offensive line probably ate a chunk of Brady's working minutes.