"I Have Learned That The Best Defense Is To Play Offense"
August 2nd, 2022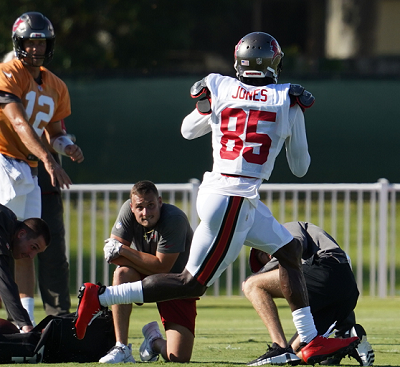 Todd Bowles is getting wise in his old age.
Football isn't what it was when Bowles played in the 1980s and early 1990s. Defense no longer rules the day. Even Warren Sapp has said through the last decade that defense doesn't win championships any longer
Why is that? Because the NFL wants offense, offense and more offense. Scoring sells, and fantasy football drives a ton of interesting the league, which means more revenue.
Bowles was a guest on NFL Network today with Colleen Wolfe and Steve Smith, live at One Buc Palace. Smith, the former Panthers great, was needling Bowles about being a defense-first head coach. Smith was poking Bowles about all guys like him really care about is defense.
Bowles shot back with a smile and noted how many stud offensive players the Bucs invested in this offseason.
"I've learned that the best defense is to play offense," Bowles said.
Smart man.
The Bucs have averaged 30 points a game through the 2020 and 2021 seasons. It's nearly impossible to miss the playoffs with that kind of offense.
Obviously, defense is critical, but Joe's glad to hear Bowles has the right frame of mind. Yeah, the Bucs have given Tom Brady everything he could want (except a one-way ticket to Miami) but their talent level and balance on defense is excellent and good enough to shut down anyone.
Bowles couldn't ask for a much better team from top to bottom.