"I Didn't Do As Good A Job As I Could Have With That"
August 10th, 2022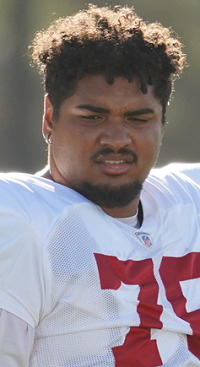 A lot of Bucs have said they're still sour about how last season ended against the Rams.
Today Tristan Wirfs sounded like he blamed himself for the loss.
The Bucs' All-Pro right tackle was chilling on the NFL Network set at One Buc Palace alongside former hated Panthers Pro Bowl receiver Steve Smith, and there he was asked about that Rams game.
Wirfs said what he's said previously, that it was the first game he had missed of his entire career: high school, college, NFL, etc. But then Wirfs reflected on the ankle he messed up the week prior in the first quarter against the Eagles.
It was a turning point in his career from a personal care standpoint, he said.
"I think my first two years I didn't do as good a job as I could have with [taking care of my body]," Wirfs said. "So I really started trying [this offseason] to build a routine of rehabbing, just preventative stuff and trying to take care of my body a little bit better. It's a long season. You kind of break down a little bit."
Do the Bucs beat the Rams last January if Wirfs was healthy? Joe would take that bet. You don't remove an All-Pro from an offensive line and not have a dropoff.
But Joe does think it's rough that Wirfs seems to think he had a hand in his injury. That's just not fair, though Joe appreciates the mindset.