Happy 14th Birthday To JoeBucsFan.com
August 7th, 2022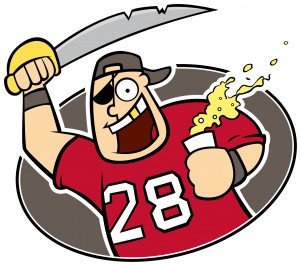 Yes, Joe is nearing manhood.
Fourteen years ago today, Joe fired up this website and never turned back. About 48,000 Bucs posts have been typed, the results of obsessing 24/7 about all things Buccaneers.
It all started with a laptop and a dream.
As the Chucky era marched on, Joe became so incredibly bored by the stale, traditional media in the Tampa Bay area. It was years into the new century and Bucs coverage was stuck in the 1980s. Boring!!
But in some corners of the Internet, coverage of sports teams was fun, you know, like sports are supposed to be.
So Joe hatched a plan to cover the Buccaneers in a way that would entertain and interest Joe, something very different.
A defunct NBA site called JoeNetsFan.com was the inspiration for the name and the spirit, but Joe decided to bring a different angle, the whole third-person "Joe" thing.
Joe pounded away for months on these pages writing passionately for almost nobody — and no money. Traffic grew slowly while Joe endured endless personal attacks, the result of rattling the cages of Bucs fans, the Bucs franchise, and Joe's media brethren. Joe had lots of "haters" before anyone used the term "haters."
But Joe pressed on because this site was rooted in a love for the Bucs (and always will be).
Plus, Joe was having fun and was confident fans were buying into Joe's unique brand of journalism that continues to be like no other.
The Day 1 approach hasn't changed; Joe writes about Bucs-related subjects that interest Joe without regard for any other agenda.
Thankfully, Bucs fans kept coming. JoeBucsFan.com traffic grows consistently, and it's reached the point where Joe is now the only destination for legions of Bucs fans. Anyone who wants to research their favorite Bucs site on SimilarWeb.com can quickly conclude that JoeBucsFan.com is the dominant force in the market — by a mile.
In 2021 alone, about 24 million pages were viewed on JoeBucsFan.com (official server-based data). And then throw in the legions of beloved podcast listeners on top of that.
The ride has been wild — a book could be written about the bizarre Bucs sh*t Joe has experienced and can't type on these pages — and Joe appreciates all readers.
While Joe has wacky daily commenters and devoted followers, a statistically insignificant percentage of readers ever comment. But you all have a place in Joe's heart.
Joe also appreciates the great year-round sponsors and local business owners who support JoeBucsFan.com. Unlike the Buccaneers organization and other local media outlets, Joe does not price gouge and views advertisers as true partners and friends.
As always, Joe's lone birthday wish is for top quality football to continue in Tampa.
Joe loves playing cheerleader instead of dissecting the turds served up by the Bucs during The Lost Decade. What a relief the past two seasons have been. Winning is good for Joe's mental health and bank account.
A hearty thank you from JoeBucsFan.com world headquarters to all the Bucs fans out there who have allowed Joe to realize this dream — even the legions of fan haters, bitter media types and sour Bucs employees.
As a birthday treat, Joe will get back to work serving Bucs fans 24/7. It's a privilege.