Gronk Schedules Retirement Party And It's Sold-out
August 25th, 2022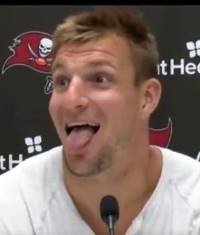 Joe has written that it's hard to take Rob Gronkowski's NFL good-bye seriously without a massive retirement bash being scheduled and executed.
The man loves to party, so how could he quit and not seize the moment to dance and throw back shots with thousands of people?
Well, now a bash is scheduled for Saturday, Sept. 10, at a Connecticut casino (courtesy of a JoeBucsFan reader tip), and it's sold-out. Ironically, Gronk set this up on the day before most of his NFL friends will be far to busy to attend.
In typical Gronk fashion, the party has sponsors and he's no doubt being massively paid to participate. (What a rough life Gronk has!). It is being promoted as the end of Gronk's football career. So Joe's going to play along.
Bucs fans will miss you, Gronk!