2022 Adjustments Are Old School Brady
August 25th, 2022
BY IRA KAUFMAN
For any other quarterback, it's a potential disaster. For Tom Brady, it's merely a challenge.
Playing with three new starters on the interior of your offensive line is tough enough, especially when the guy under center just turned 45.
You would think opposing defensive coordinators are eager to blitz the Bucs relentlessly this fall, considering all the changes up front. But this is Tom Brady we're talking about. He's witnessed every scheme and stunt imaginable … and emerged triumphant.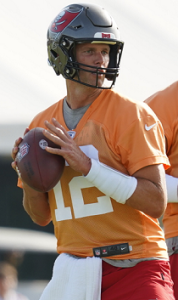 That's why Todd Bowles and quarterbacks coach Clyde Christensen are sleeping soundly at night heading into the Sept. 11 opener at Dallas.
Brady's experience and obsession with the details will be critical as Tampa Bay replaces Ali Marpet, Ryan Jensen and Alex Cappa. Brady will be taking snaps from Robert Hainsey, who attempts to fill Jensen's rather large cleats in terms of physicality and dependability.
"Having Tom is a huge advantage, especially when you have a young center," Christensen told me. "It's extremely comforting that you don't have a young centerBa with a young quarterback. Those guys are going to be fine. What's most impressive about Tom Brady and Peyton Manning is they're savants on protection. They've seen it all. They've seen every picture, they know who's coming and they know what to do.

"And the biggest thing? They know what they don't know, so they get the ball out and throw it away. It's self-preservation a little bit. Sometimes, you get hit. Sometimes, you get fooled. We all get fooled, but where with the average guy it turns into a sack or a sack-fumble, or worse an interception, Tom turns it into second-and-10."
Cowboys defensive coordinator Dan Quinn, who looked on helplessly as a head coach when Brady carved up his Falcons in that memorable Super Bowl comeback, is already devising ways to undermine the NFL's No. 2 offense. Quinn worked wonders in his first season with Dallas as the Cowboys ranked third in QB knockdowns and third in pressures while blitzing at a 27 percent rate, well below what Bowles ordered up for Buc defenders in 2021.
Brady's quick release will have to be even quicker this season.
"It's great to know he's seen everything," Bowles said. "Tom knows how to get rid of the football. He understands what people are trying to do to him."
Brady has thrived against the blitz throughout his career. Defenses keep sending extra attackers and Brady keeps exploiting the holes exposed downfield.
"They still come after Tom because you still want to push the pocket in on him," Christensen said. "You don't want to give him all day because he'll pick you apart."
Cranking The Heat
The 2015 Chiefs tried a vanilla approach in a playoff game against Brady's Patriots. It was a rocky road as Brady completed 28-of-42 passes for 302 yards in New England's 27-20 victory. The Pats threw the ball on each of their first 14 snaps and Brady was hit only once the entire game.
The following week, Von Miller was credited with 2 1/2 sacks as the Broncos hounded Brady relentlessly in New England's 20-18 setback.
Brady was picked off twice and dropped four times by an ultra-aggressive pass rush.
Two different defensive philosophies — two different results. Shaq Mason was New England's starting right guard in both games.
"At Indy, we used to laugh because Rex Ryan at one point finally stopped blitzing Peyton," Christensen said. "Rex blitzes everybody, but there can be a point where you keep coming and it doesn't get home. Let's face it, it's a tough choice."