Gronk: "I'm Staying In Shape"
August 24th, 2022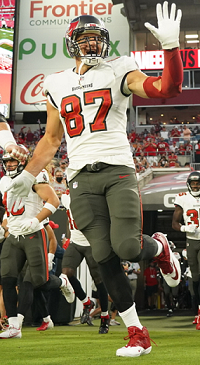 Until Rob Gronkowski schedules a massive retirement party or says he's never playing football again, Joe's not ruling out a Gronk return to the game later this year.
Obviously, Gronk loves the spotlight. He's a camera junkie. And what better way to generate eyeballs than to land in the NFL just in time to have every football fan talking about you at the Thanksgiving dinner table?
Gronk's been involved in all kinds of stuff since the end of last season. After his headline-inducing Ultimate Fighting Championship studio event Saturday night, Gronk flew to play basketball in the Big 3 Celebrity charity game, which was far more serious than other exhibitions Joe has seen.
Gronk looked good. He's certainly a brutal matchup in the post and driving to the basket.
But more important, Gronk joined the 3-Point Conversion show and was asked what's next for him. He told the host "I'm staying in shape," noting that he wasn't in basketball shape but is open to any opportunity that comes his way.
Of course, Joe would welcome a Gronk return to the Bucs. Hopefully he won't be needed. And don't think the Bucs can't afford him under the salary cap, "the answer's always yes."