Greg Van Roten And The Bucs
August 22nd, 2022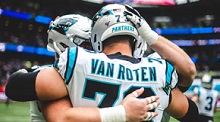 A soothing thought these days at JoeBucsFan.com world headquarters is the success of the 2015 Bucs with two starting offensive linemen that weren't on the team in mid-August.
Back then, in the heart of The Lost Decade of Buccaneers football, general manager Jason Licht plucked right tackle Gosder Cherilus off the street and center Joe Hawley.
The result was the Bucs had the fifth-ranked offense in 2015 behind a punishing rushing attack and a decent passing game.
Today the Bucs sit with a messy mystery at left guard and an inexperienced center set to play in front of the greatest quarterback in history of the human race. That's why Joe was up all night studying options around the league.
One guy Joe thinks could be a potential Bucs signing is Bills guard Greg Van Roten. The undrafted veteran is one of those grimy, worked-my-way-here dudes that Licht seems to appreciate.
How dedicated was Van Roten? He forged a Canadian Football League career after things didn't work out for him in Green Bay and Seattle.
Plus, Roten is a smart guy out of the Ivy League (U. Penn). He should be able to pick up the Bucs' offense quickly.
Joe has a ton of respect for the Bills' front office, and Joe suspects they wouldn't have signed Van Roten if his film with the Jets over the past two seasons looked awful. Still, in Buffalo he could be a late-August casualty on a deep Bills roster.
And remember, Licht has a history of trading with Buffalo.
Van Roten, 32, has made 50 starts over the past four NFL seasons with miserable Panthers and Jets teams. But he may be good enough — and experienced enough — to give the Bucs some peace after Aaron Stinnie's season-ending knee injury.