Gerald McCoy Outraged Over NFL Network Top-100 List
August 29th, 2022
Unemployed (retired?) defensive tackle and former Bucs stud Gerald McCoy was unnerved this morning. And no, it's not because the Raiders threw him to the curb after his injury last year.
GMC is sticking up for a close comrade of his with the Bucs. And that would be Lavonte David. A linebacker who any reasonable NFL fans would agree is one of the best in the game got dissed. Again.
Bad enough that year after year David is given the middle finger by Pro Bowl voters (which includes coaches, players and fans). Now, you can blame his fellow players.
David did not make the NFL Network Top-100 for 2022, a list compiled strictly by players. And GMC is peeved about it.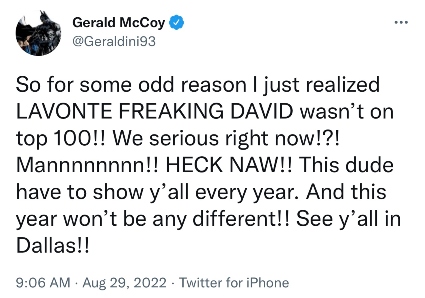 That's the story of David's football life. Always dissed. Always disrespected. Always overlooked. Always.
And the sad thing is, all of this costs David cash and maybe a chance at immortality in the Pro Football Hall of Fame. Really criminal, man.
Joe thinks it is cool that GMC takes to Twitter to defend his old friend. Hey GMC, don't worry, folks in Tampa Bay will never forget what David has done for this franchise through thick and thin.
Another Bucs player you could argue who got the shaft was Vita Vea. Bucs players who made the list were: Tom Brady (1), Tristian Wirfs (42), Mike Evans (53), Devin White (64, Antoine Winfield (75) and Bucs sack king Shaq Barrett (86).