Flowing Kyle Trask Love
August 25th, 2022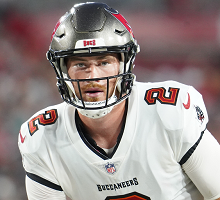 The 24-year-old Bucs quarterback who has never taken a snap in a regular season game has the right people at One Buc Palace showing him love.
Yes, Kyle Trask got a couple of great reviews yesterday.
First up, Byron Leftwich, who basically said Trask is doing everything expected of him.
"Man, I think Kyle has been improving drastically,' Leftwich said before adding, "I think the kid has been improving as much as you can improve given the reps that he's been getting."
Then Leftwich sort of implied that the media doesn't know what it's seeing from Trask.
"Obviously, the results and the numbers from the game – I think he was a few plays away from you guys thinking he may have had a big game that game. That's not how it goes, I see him getting better every day though, so he's improving on things you guys can't notice, that's all about playing the game at quarterback," Leftwich said.

"When you have the turnovers, those are things that you guys notice and things that you guys grade. Other than those types of things we have to protect the football. Other than that, this kid has been getting better every day also. It's just a repetition thing. It's hard to play quarterback in this league, right? You compare everything to [Tom] Brady, everything looks bad, right [laughs]? That's what he's facing right now. I'm glad that he's in that room with Thomas because he gets to get better and gets to hear it from Tom also."
Quite an endorsement from Leftwich there.
Receiver Scotty Miller said Trask's confidence is soaring and the team knows he can play well.
"He's a baller," Miller said. "And now that he really knows the system, understands the system, is getting a lot more reps this year and had the whole offseason … So, it's been fun playing with him in the games. We all have a lot of confidence in him and he's coming along and he's going to be a great player."
Perhaps next year Trask will be able to leapfrog Blaine Gabbert on the depth chart.