"Explosive" Julio Jones
August 9th, 2022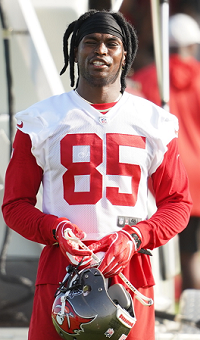 Like many Bucs fans, Joe still stares at the stars and thanks the football gods that Julio Jones is in a Tampa Bay uniform.
It's still so hard to fathom.
And after listening to Todd Bowles today, and the pace and energy in his voice when talking about Julio, Joe will do more stargazing tonight.
Julio looks damn good, per Bowles, and "explosive" was among the many adjectives.
"We can use him all over the field," Bowles said. "He's not just a red zone guy. He can still run. He's got moves. He can run by people. He can catch. He can block. He still has the whole gamut when you talk about his game and we can use him anywhere we want to use him. That's the beauty of it."
And Chris Godwin is healthy and on track for an early-season return, and Russell Gage has been a training camp star. Mike Evans? The best receiver in Bucs history needs no introduction.
Joe has openly speculated that this is the greatest receiving corps in NFL history. In 4 1/2 weeks they get to prove it.