Disappointing Start For Luke Goedeke
August 20th, 2022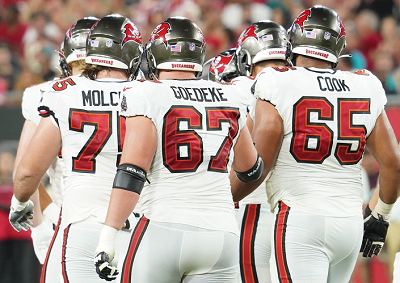 Look for Bucs rookie Luke Goedeke to start tonight against the Titans at left guard, and hopefully he'll leave his third session of work in Tennessee with a smile on his face.
After practice with the Titans in Nashville this week, Joe detected frustration in Goedeke and asked him about it.
Three years of right tackle in college didn't make moving to left guard with the Bucs an easy transition.
"Yeah, it's been a little disappointing because I'm very tough on myself as a critic," Goedeke told Joe. "I'm a perfectionist; I want everything great. I mean, I know it won't happen overnight, it just takes time transitioning to playing the left side and everything that goes with that at guard. I'm happy that I'm progressing, but it's definitely not where I want it to be at this point."
Goedeke's challenge is the Bucs can't afford to have him progress like a typical left guard selected in Round 2. They need a guy who's NFL-ready out of the gate.
Perhaps that guy is veteran Aaron Stinnie or Nick Leverett. But Goedeke will get his time to shine tonight and it will be critical to proving to Todd Bowles that he can be trusted to protect The Goat.