Can "All-In" Be Turned Off?
August 12th, 2022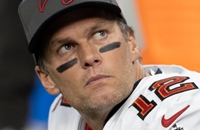 Yes, taking-a-break Tom Brady is the same guy who held his own practices at a Tampa high school two years ago, the same guy who has talked about how much he loves practice and how it can take three to five years to build optimum chemistry with receivers.
And now Brady has left the Bucs for at least 10 days after missing time earlier in August.
He won't be resting his 45-year-old body and coaching up teammates on the sideline, he's walking away from the team, which may be the most un-Brady-like move Brady could make.
No NFL player has ever been more all-in than Tom Brady. And Joe knows of no starting quarterback that's stepped away from his team for 10 days in training camp for a pre-arranged vacation.
Folks can spin Brady's choice however they wish, and Joe isn't pretending to know the truth driving Brady's decision. Joe is not calling anyone right or wrong, but Joe's focus is on the reality that Brady's behavior is extraordinarily abnormal for Brady.
And it's even more odd when you consider that Brady has new targets in Julio Jones, Russell Gage and Kyle Rudolph, in addition to three new starting offensive linemen — six new key cogs in his offense.
It's fair to question whether Brady is all-in on the Bucs for 2022.
It's even fair to speculate whether his time away from the team will either fire him up to return — or lead to him lose passion for football.
The great 21st-century philosopher and former Bucs guard Ian Beckles said yesterday, "If he's not all-in, it ain't going to work." For a Super Bowl-or-bust team, Joe can't argue with that.