Bucs Training Camp Notes (Practice No. 8)
August 6th, 2022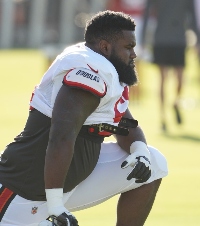 The pillar of the franchise returns. A future Hall of Famer is a bystander. A former first-round pick flashes at a critical position. A rookie is demonstrating his versatility. An expected future cornerstone continues to struggle. The defense rises up. This and more in today's practice notes.
* Great news: Tom Brady returned to practice today from his mini-birthday vacation/personal days/tampering retreat looking sharp and refreshed. We can all exhale.
* Encouraging news: Mike Evans was on the sidelines at practice. Afterward, Bucs coach Todd Bowles said Evans is "day-to-day" with a minor hamstring.
* Joe Tryon-Shoyinka is demonstrating all his offseason work is beginning to pay off.
* Kyle Trask didn't have as awful of a day as he did his two previous practices, but it wasn't good. Concerning trend. Arrow should not be pointing down for a second-year, second-round pick finishing his second week of training camp.
* The defense is absolutely flying and diving around. Today, the run defense started to dominate.
* Brady tries for Jaelon Darden on the right seam and he cannot hang on. The two will have a better result later.
* Brady tries to link up with rookie tight end Cade Otton on a short route over the middle and Antoine Winfield won't have that noise in his neighborhood. He breaks up the pass with a diving stop. These Bucs defensive backs are diving around like defensemen in a Stanley Cup Finals Game 7 protecting a one-goal lead late.
* Score! Brady hits Giovani Bernard with a pass along the right sideline and he brings it home.
* Brady bobbles a snap from shotgun (it was a good snap, belt-high) and his pass is tipped at the line.
* Brady steps up in the pocket and throws for Otton in the back of the end zone but it was too high.
* Brady to Tyler Johnson over the middle.
* Playoff Lenny tests the Bucs' interior line and runs up the middle and is stuffed.
* Signals crossed?: Brady throws to the left sideline and nobody is home. Now Joe is not calling anyone out here. Joe is giving Brady the benefit of the doubt because both Cam Brate and Kyle Rudolph had a vet day. So Ko Kieft and Otton got a ton of work with the first team offense. Given that the rookies may not fully know the playbook, and Brady likely can recite the entire playbook after shots of avocado tequila, Joe guesses someone ran the wrong route.
* Bernard bursts up the middle for a nice gain.
* Mike Evans is not practicing today and is day-to-day with his sore hamstring. He was out at practice and on the sidelines watching and talking to fellow receivers when they came off the field, including an animated conversation with the immortal Cyril Grayson.
* Bernard wiggles through the run defense and once he gets to the second level he kicks it into overdrive.
* Blaine Gabbert throws to the left sideline. Joe couldn't tell who was targeted as it was on the opposite side of the field but Joe sure did see Logan Ryan sell out diving to break up the play.
* Rachaad White runs through the right side and is lit up by K.J. Britt. Hello, rookie.
* Brady seems to be missing on several throws early. Is this because he has several rookies practicing on first-team offense and they are not on the same page? Joe isn't sure.
* Brady connects with Russell Gage on the left seam. He got the ball away despite pressure from the left side by Cam Gill.
* White weaves his way through the line. White is getting a lot of touches in the run game the past two practices.
* Gabbert to Deven Thompkins who makes a nice catch while keeping both feet inbounds as he falls over the left sideline.
* White again, this time off left tackle.
* Kenjon Barner gets the call to run this time.
* Kyle Trask tries to go to Tyler Johnson on the right sideline and Don Gardner not only had tight coverage on Johnson as he turned the corner to run upfield, it sure looked like he held Johnson or perhaps had defensive interference. Johnson couldn't get to the ball as a result.
* Gage catches a short pass on the right side from Brady and the immortal Cyril Grayson follows that up on the next play with a catch from Brady on the left sideline.
* Ko Kieft on a crossing pattern from the right side catches the Brady offering near the left seam for a big gain.
* Vyncint [not a typo] Smith bobbles and drops a Gabbert pass down the right seam. Joe cannot imagine Smith sticking as he has dropped several passes throughout training camp. Too many to expect to make this receiver-loaded team. Not even the practice squad.
* Joe Tryon-Shoykina would have had a sack if hitting the quarterback was allowed as he blew in from the left side and had Gabbert dead to, well, left.
* Gabbert sacked again as the entire defensive line seemed to get to him like a rip current.
* Brady apparently doesn't like the tight coverage of receivers and he rifles the ball as if he's trying to drill someone on the far eastern practice field.
* Brady tries for Bernard on the right side and it is incomplete. Did Jamel Dean get away with a hold?
* A faux sack for Anthony Nelson as he too gets to Gabbert from the left side.
* J.J. Howland cannot hang on to a pass from Gabbert on the left side.
* A Gabbert pass to Smith broken up by Gardner.
* Ugly: Trask has a ball tipped at the line and the ball pops in the air and lands in the hands of Schiano Man Olakunle Fatukasi, who houses the pick.
* Bad luck for Trask continues. He throws down in the right flat and hits Kenjon Barner, who was wide arse open, right in the hands. Barner bobbles the pass and cannot hang on. The crowd groans. Apologies for being repetitive: Trask has had an awful week. And that's a bad trend. Trask was, however, a little bit better Saturday but damn if the camp meat he is throwing to hasn't dragged him down. These guys just drop pass after pass from Trask. That's not to excuse Trask's poor practices of late. But the former Gators star signal-caller is getting no help from these characters.
* Brady to Gage. Joe suspects we will hear a lot of that this fall.
* Playoff Lenny pulls in a pass from Brady along the right sideline for a monster gain.
7-on-7
* Gage hauls in a pass from Brady along the right side for a big gain.
* Thompkins gets a rep with the first team and Brady finds him over the middle. A good quarterback makes lesser players look better some say.
* Gabbert to Kieft down the left seam.
* Thompkins catches a pass over the middle from Gabbert in double-coverage. Antoine Winfield was in there.
* Joe doesn't think K.J. Britt likes rookies. Brady finds Otton over the left seam and Britt says hello and flattens Otton.
* Interesting play design: Brady throws to Tyler Johnson on a crossing pattern from the right side. The route he ran had him behind a route that Julio Jones ran so where Johnson caught the ball, Julio was a couple of yards in front of Johnson ready to block.
* This may have been Jaelon Darden's best play as a Bucs receiver: Brady throws to Darden along the right sideline and the pass was way high. Somehow, Darden channeled his inner Dennis Rodman and stretched out and climbed the invisible ladder to bring the ball in and get his feet down before falling out of bounds. Gain of about 15.  Excellent play.
* Brady to Gage, right seam.
* Gabbert to Otton for a nice gain.
* While Brady and Gabbert are getting most of the snaps — Gabbert is clearly Brady's backup at this point in training camp — Trask tries to stay loose by tossing a football with a Bucs staffer. Joe is confident Trask got that from watching Brady.
* Kaylon Geiger catches a Trask pass down the right seam.
* Trask connects with Thompkins over the middle near the goal line and it appeared Thompkins had the ball punched out. It also didn't appear Thompkins had the ball tucked away either. Gotta clean that up rook.
* Trask attempts to go to Thompkins along the right sideline and it's too long.
* Kameron Brown catches a pass from Trask along the left sideline for about 20 yards.
* Johnson runs a come-back route to the left side and brings in a pass from Trask.
* Trask to Jerreth Sterns to the right sideline.
* Brady to Playoff Lenny on the left side and he is hit right away. Joe isn't sure if he fumbled but Carlton Davis had the ball in his hands when the two sides began walking to their respective huddles.
11-on-11
* Bernard tries to run up the middle and it looked like Vita Vea played Moby Dick and just swallowed up Bernard with one big bite.
* Joe Tryon-Shoyinka gets past his man inside and had a free shot at Brady and Brady, just about as JTS was to get in Brady's face, quickly tossed the ball away. JTS has flashed today. Comforting sign.
* Grayson and Brady hook up on a pass to the left sideline.
* Brady tries for Bernard over the middle but cannot connect.
* Pick! Lavonte David has his second interception of Brady this training camp. The defense hoots and hollers and celebrates. David does not practice like he's 32. He still has the quicks.
* Trask throws low to USFL star Bug Howard and he cannot come up with it. With a name like "Bug Howard" this guy needs to at least be on a practice squad.
* Trask again has a pass tipped at the line. This time, fortunately, it falls harmlessly to the ground.
* Trask hits Geiger over the middle in traffic.
* Interesting: Trask calls a play in the huddle and Trask lines up under center and Bucs offensive coordinator Byron Leftwich halts play to walk up and say something to Trask as he is under center. Joe has seen a lot of Leftwich very much hands-on coaching Trask one-on-one this training camp. Sometimes judging by Trask's body language, you can tell Leftwich isn't offering to make a grub run to Alessi Bakery.
* Playoff Lenny tries to run left, gets to the line of scrimmage and Akiem Hicks grabs Playoff Lenny from behind and bear hugs him to stop play. Hicks is quite the large man.
* Brady hits Johnson on the left side as Johnson runs a look-in pattern.
* Brady and Otton link up on the left side. Each day Otton is getting more targets and each day he seems to improve a little bit. This then leads to more targets in the next practice and… well, you get the drift.
Goal line
* Brady for Gage on the left side… no.
* Johnson with a big catch in the back of the end zone for a score.
* Brady waits… waits… waits… then checks down to Scotty Miller along the left sideline for a score.
* Smith skies for a catch from Gabbert in the back of the end zone catching the ball near the crossbar.
* Gabbert's final touchdown of the day goes to Thompkins who ran a crossing pattern from the right.
From Inside Training Camp: #Bucs QB Tom Brady is back, while WR Mike Evans sat out another practice. pic.twitter.com/ppchmiGrYQ

— Ian Rapoport (@RapSheet) August 6, 2022