Big Gamble On Bucs Imploding
August 24th, 2022
And you thought you knew Bucs fans wigging out about the offensive line!
Joe understands some Bucs fans are shaken after starting center Ryan Jensen and potential starting left guard Aaron Stinnie blew out their knees. Then throw in that the guys projected to replace them, Robert Hainsey along with either rookie Luke Goekeke or Nick Leverett, have a combined total of zero NFL, and Joe can fully appreciate how fans are chugging Mylanta.
This apparently has a guy in Louisiana so triggered that he has wagered on the Bucs to have the No. 1 overall pick in the NFL draft next spring.
That's right, a panicking Bucs fan (or could it be a too eager slimy Saints fan?) dropped $250 on the Bucs to end up with the worst record in the NFL this fall.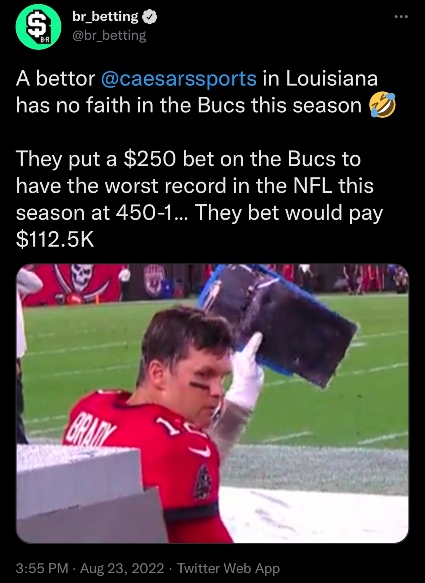 The only thing Joe can think is that the distraught Bucs fan/giddy slimy Saints fan believes Tom Brady will get knocked out of the opening game at Dallas and be lost for the season. And then the Bucs would be banking on Blaine Gabbert and/or Kyle Trask to save them.
Man, even if Brady got hurt, Joe believes the Bucs defense could be good enough to carry them to a wild card. Yeah, Joe typed that.
If this nightmare actually plays out, there might be a bright side: the Bucs would have their pick of two college quarterbacks from two historic programs that haven't produced a decent NFL signal-caller since Kenny Stabler was drafted 54 years ago, C.J. Stroud or Bryce Young.