Adding To The Jason Licht-Bruce Arians Brilliance Scorecard
August 22nd, 2022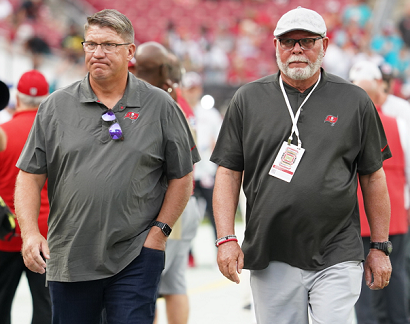 Those keeping score realize the Tom Brady game got more interesting over the past two days, and the past two months, even moments ago.
Word came out Saturday that the Raiders didn't think Brady was worth the investment during the 2020 offseason, despite Brady apparently shopping for homes in Vegas and being eager to play there with Rob Gronkowski.
And that was on the heels of the Dolphins coming up empty in their bids to land Brady, per an official NFL tampering report, and the Saints deciding to stick with Drew Brees in 2020.
Many months ago it also was widely reported that the 49ers could have had Brady, who grew up a 49ers fan, but thought rolling with Jimmy Garoppolo was the better bet.
And today, NFL Network insider Ian Rapoport said on The Pat McAfee Show that he is certain Brady was being considered strongly by the Titans in 2020, but Tennessee passed on making a formal offer.
That's six teams, including the Patriots, whose decision-makers either thought Brady was unworthy, or they couldn't close the deal despite their interest. And make it seven franchises with the Chargers, whose offer to Brady was reported at the time.
The net result is Bucs general manager Jason Licht and Bucco Bruce Arians making the winning play on Brady and beating back all those teams. The way things are going, Joe would wager another Brady-2020 story will emerge involving still another club or two.
Thank goodness Licht and Arians weren't intoxicated by Jameis Winston's 33 touchdown passes and 5,109 yards passing in 2019, and that they had just the right touch and when it came to landing Brady and extending his contract for the 2022 season. The latter might have been the most impressive play of all.