Training Camp Rules & Pay
July 23rd, 2022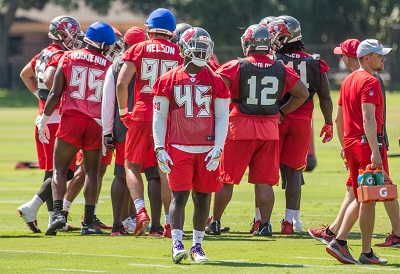 The Buccaneers' first full-team training camp practice is Wednesday morning at One Buc Palace, and what a glorious day of underwear football it will be.
Yeah, it gets old after a week or so, just in time for glorious preseason games to arrive and entertain and tempt fans!
So how does training camp work? The rules are always fuzzy, it seems, but Joe will shed some light, with an assist to Nashville great Paul Kuharsky.
Players have a five-day acclimation period once they report, which means no pads in that time. Bucs veterans report on Tuesday and then will practice without on Wednesday, Thursday, Friday and Saturday mornings.
Helmets and protective shirts are allowed Wednesday and Thursday, then it's helmets and shells on Friday and Saturday. Then there's a Sunday off followed by full-throttle practices (in pads) beginning Monday, Aug. 1.
Players can only be on the field a maximum of four hours per day. Padded practices can't last longer than 2 1/2 hours. The remaining 90 minutes of practice time become a walk-through-style session, and that's typically held at a totally different time of day. Todd Bowles will have nearly all his padded practices starting at 8:30 a.m. So the walk-through would be late afternoon or early evening.
Padded practices are not permitted for more than three consecutive days, and the training camp maximum is 16 padded practices under league rules.
Per Kuharsky, first-year players earn $1,850 per week during training camp, while veterans get $2,900.
The big bucks don't come until Week 1. Players are paid in the NFL on a game-by-game basies. So their salaries are divided by 17 and paid out accordingly. Joe believes there's a small payout for preseason games, but it's definitely in the low four figures.