Lavonte David Expected Tom Brady To Be Arrogant, "You Know, An A-hole."
July 22nd, 2022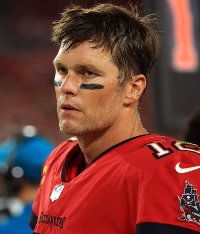 Everyone at JoeBucsFan.com world headquarters loves a good Tom Brady story.
This one isn't the greatest, but it's certainly candid, and it made Joe wonder about some former superstars who once landed in Tampa.
Iconic Bucs linebacker Lavonte David was a guest on The Herd yesterday and, of course, he was asked about Brady. More specifically, David was asked what he might share with his grandchildren one day about playing with The Goat.
It seems David was waiting for a different kind of man to show up after Brady signed in 2020.
"Seeing him coming into the locker room just being himself. You know, every time when you get a get a guy like that in your locker room, you would expect him to act a certain way or be a certain way, kind of be like arrogant, you know, an A-hole as much," David said. "But Tom, man, with all his success and his stuff that he's been throughout the league, he's just a normal guy. He's just wants to be a part of the locker room and want to be like everyone else. He wants to joke around with you, he wants to just talk to you. You know, he knows everybody in the locker room, got great relationships with people. Just the way he leads, the way he carries himself on and off the field is incredible to witness."
Joe doesn't believe for a second that Brady is just a regular guy. But it does seem that in the locker room and at One Buc Palace, Brady can be himself, let his guard down. And that part of Brady is just a football-loving dude who is a master of leadership and one who finds it a lot more peaceful and satisfying than his family and business life.
So if David expected a veteran superstar like Brady to be an A-hole on arrival, Joe wonders whether David forged that line of thinking after multiyear Pro Bowlers Darrelle Revis and Dashon Goldson landed with the Bucs in 2013?
Or after DeSean Jackson moved to Tampa in 2017?