Tom Brady: 2023 "Absolutely" Is On The Table
July 14th, 2022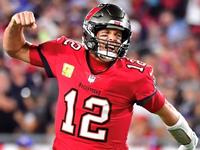 This sure made Joe's Thursday morning.
The only thing better than the Bucs having a fantastic 2022 season would be Tom Brady coming back in 2023 to do it all again.
It's possible. Very possible. Tom Brady said so during a sitdown with Variety magazine. The chat was in May; the story published today.
Do you know when you're going to be done playing football?

Tom Brady: I really don't. I would say it's year to year: Could this be my last year? Absolutely. Could I change my mind? Absolutely. I've realized I don't have five years left. I want to do it my way. I want to give it everything I got and see where I'm at. My body feels really good. I've had a lot of traumatic injuries over the years, but if things go really smoothly and we win, that'd be great.
Brady's chatter here further emphasizes that the Bucs must keep Brady flowing in top shelf offensive linemen and stud weapons. That's the best way to keep him healthy, loaded and yearning for a fourth Tampa Bay season.
If Brady is even thinking of a fourth season, then Joe believes Team Glazer should put a fat guaranteed contract in front of Brady for 2023 ($50 million?) If he plays, he gets top dollar. If he retires, then the Bucs start shopping or begin the Kyle Trask era.