Different Offense For Todd Bowles?
July 24th, 2022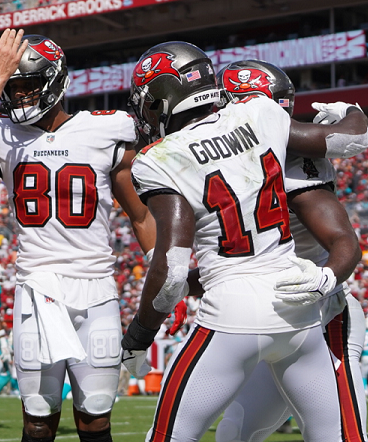 As recently as yesterday, Joe took to his pulpit and preached how football teams are committing a cardinal sin by not playing to their strengths. Don't fix what is not broken.
Joe still stands by that with every fiber of his soul. However, last night doing more research with Football Outsiders 2022 Almanac, it's fair to wonder if the Bucs will have the same offense as the 2021 edition. Why is that? Well, the Bucs will start the season with a major chunk of their 2021 offense gone.
Bryan Knowles, typing for Football Outsiders, maintains the lack of depth at receiver dragged the Bucs down late in the season and specifically in the playoff loss to the Rams. Knowles noted that as good as Mike Evans is, the Bucs simply cannot bank on him to carry the team in the passing game week after week.
What jumped out at Joe was how many targets the Bucs will be missing from last season until Chris Godwin returns. How many? Knowles points out the Bucs have lost over half of their team targets if somehow Godwin needs all season to rehab.
With Godwin out, [Antonio] Brown long gone, and Rob Gronkowski deciding to retire right as we were going to press (thanks, Gronk), the Buccaneers are missing 300 of their 578 wide receiver or tight end targets from 2021. Mike Evans is great, but he can't be a whole passing offense by himself.
That blew Joe away. That 300 is a sh!tload that has evaporated.
Knowles went on to type that Scotty Miller and Tyler Johnson are nice part-time players but if the Bucs bank on them as starters, they both need to raise their games a step or two. No argument from Joe.
Yeah, Tom Brady always makes receivers look better. There is that to lean on. But Joe thinks Knowles may be onto something. Perhaps, until the Bucs demonstrate that Russell Gage and Kyle Rudolph can replace Godwin and Gronk, maybe it's not such crazy thing to wonder if new coach Todd Bowles will have a different offense, until Godwin returns?
Simply put, without Godwin and Gronk, this isn't the same offense.