Shaq Barrett Defends Leonard Fournette
July 20th, 2022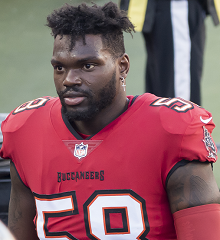 If Leonard Fournette came to the Bucs' June mandatory minicamp at 250 or 260 pounds, as was reported with emphasis, Shaq Barrett wasn't seeing it.
In fact, Shaq says he and Fournette talked about weight at that camp.
They shared a conversation about coming back to training camp in shape and at the proper weight. That was the message today from Shaq during his visit to The Rich Eisen Show on SiriusXM Radio.
"Whatever the report said, I don't think he was 260 or 250," Shaq said of Fournette.

"I came in a little heavy, too. So we both probably came in a little heavier but we still had time to get it right. I'm going to come back exactly at the lowest weight where they want me to come back, or maybe a little bit lower than that. And [Fournette's] a professional, too. So he's going to come back where they want him at, somewhere within that range."
Once upon a time 35 years ago, NFL players got in shape during training camp through grueling two-a-day sessions, six preseason games and tyrant head coaches. In the modern NFL, teams want players fit before they arrive, in order ot avoid injuries. And then staff's goal is to get them in football shape versus just looking great at the beach.
Still, there's a balance to be had. As Shaq noted, players are assigned a weight range for their training camp arrival. For Fournette, perhaps that's 225 to 235.
Joe has no reason to believe Fournette won't arrive where the Bucs want his weight to be. No, Joe doesn't believe Fournette was pushing 260 seven weeks ago.