A Call For More Sacks Of Tom Brady
July 20th, 2022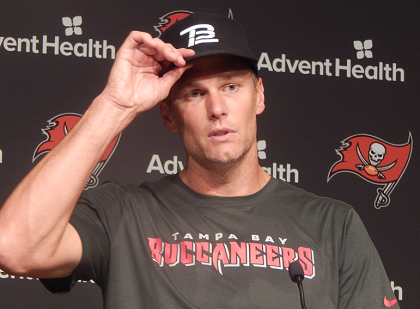 Joe can imagine more than a few Bucs fans — and NFL fans — in stunned disbelief listening to Bucs sacks king Shaq Barrett this afternoon as he enjoyed a pedicure with his wife.
(Shaq said he tries to get one "pedi" per month.)
During his all-things-Bucs chat on The Rich Eisen Show on SiriusXM, Shaq said he loves how Todd Bowles and Bucco Bruce Arians communicate so effectively and he expects little to change at One Buc Palace. But Shaq is looking for one day-to-day adjustment that will be more fair to the defense.
With Bowles calling the shots, he said, hopefully more respect for the defense will flow in practice. Apparently, Arians often ate his whistle when the offense was on the field.
"In practices, you know, when you have an offensive head coach, like, you benefit the offense a little bit more," Shaq began. "So maybe we get some more plays where the defense is actually getting our sack instead of letting the play go."
A sack is a judgment call in practice. No one is permitted to hit a quarterback, so defensive players pull up if they get clear shot at a QB. That requires coaches to blow a play dead and award a sack to the defense.
Shaq mentioning this tells Joe the defense didn't always appreciate the whistle being slow to arrive.
Joe thought was a cool and interesting nugget from Shaq, and it could serve is a motivator for Brady if a quick-whistle shuts him down where it didn't in previous summers.